Top 10 Government Small Business Grants for Women
What's the best way to raise funds for a women-owned business? Small businesses make up a large part of the American economy. According to statistics, 40% of the businesses in the United States are women-owned, indicating that 4 out of 10 businesses are a part of women's business ownership.
While there are many tactics and strategies, one stands out. One particular approach has helped other small businesses tap into the massive pool of federal government capital — government grants.
It's not easy to find small business grants. There are many applications to complete and a lot of information to gather before you can even fill them out. This article highlights the top ten government grants aimed at helping women entrepreneurs.
What are government grants for women in business?
Small business grants for women are a sum of money usually provided by the government to women-owned small businesses. They exist because female entrepreneurs have historically been disadvantaged in the business industry compared to their male counterparts. Most large-scale or lucrative business funding opportunities were reserved for men, which has only recently changed.
There are many business grants for women, which each serve different purposes. The easiest way to find out what business grant you may be eligible for is by visiting the Small Business Administration site. It can help you determine how much grant funding you need, acquire small business loans, learn about investment programs, and more.
How do grants work?
Nonprofit organizations, government agencies, and private organizations provide grants for women-owned small businesses.
Unlike loans, which need to be paid back with interest, grants are money you don't have to pay back. However, the grant application process can take longer and be rigorous with a long time frame to get approved since you also have to meet several requirements to be qualified.
It is recommended that women-owned businesses start researching federally sponsored grants at the state level because the prerequisites for these grants can come with more options with less difficulty.
How to easily win a grant?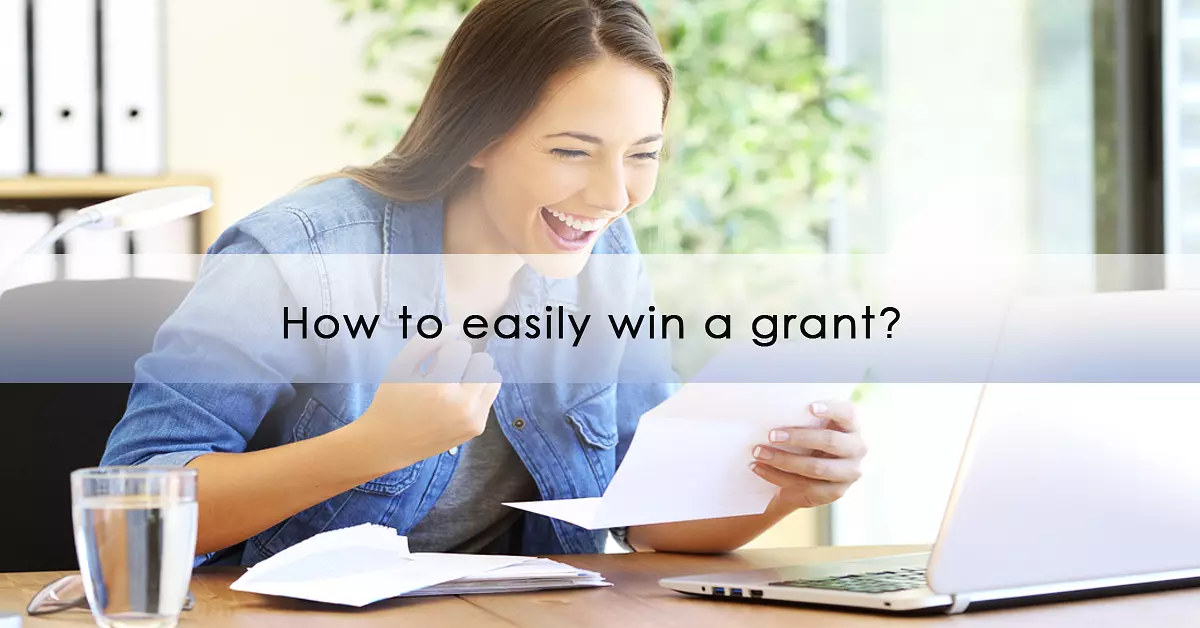 When looking for a business grant, there are many things you have to do, such as understand the rules and regulations of your sector, know how to write a good proposal, and have the right skills and experience. But how to ensure that your application will be successful?
1. Choose the right grant
The grant should fit what you want to accomplish with your organization or project. Most grant programs have specific requirements and expectations of their recipients, so be sure that the grant's goals align with what you hope to accomplish with your organization or project.
For example, if your organization's mission is to provide high-quality education to disadvantaged students, applying for a grant to create an after-school tutoring program in your community is likely to succeed.
2. Create a business plan
Business plans are formal statements of the organization's goals and all of the actions you will take to achieve those goals.
It is a necessary component for most grant applications, as it indicates how well you have thought out your idea and whether or not it is viable as a business. It also shows that you have considered how your business will operate and what financial resources you will need to make it successful.
3. Hire a professional
Grant writers know what it takes to write winning proposals and how to navigate the bureaucracy of all the different federal agencies involved in the process. They know how to communicate effectively with agency administrators and can help you raise your odds of winning a grant.
What are the steps for applying for small business grants for women?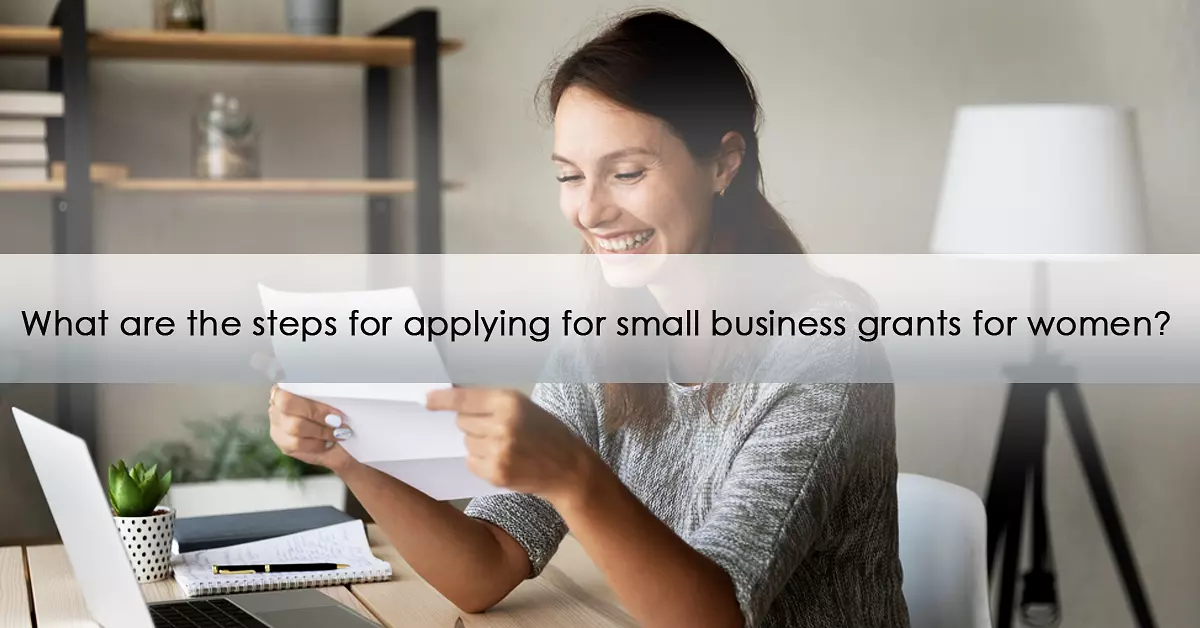 There are many different small business grants for women, and each grant is different with distinct requirements. Here are the steps to follow:
1. Start researching
There are many free databases online that can help you find grants for women-owned businesses. Some of them include:
• Grants.gov – The U.S. government website with over 1,000 grants from 26 federal agencies
• Small Business Administration Grants – The SBA website lists the federal grants available through the agency
2. Check eligibility
Each grant may have different eligibility requirements, but here are some common ones that most women business owners should meet:
Must be located in a specific geographical area
Must have been operating for a specific period
Must have a specific employee number
Must generate under a certain amount of revenue per year
3. Send your applications
Once you've found a few grants that seem like good fits for your business, be sure you meet all of their deadlines. In most cases, applications must be submitted by a certain date and time.
4. Track your progress
It's essential to track your progress in finding small-business grants for women. This can help you learn from mistakes and target your efforts better in the future. It can also help determine if there are any new resources or programs that can help you find the right grant.
You can do this by:
Recording the responses you get from the organizations to which you apply
Keeping track of the contact name and position of the grant contact person, as well as any other information that identifies their position within the organization
Keeping a spreadsheet of all the grants for which you applied and also taking notes of any critiques or requests for more information
What are the top 10 government small business grants for women?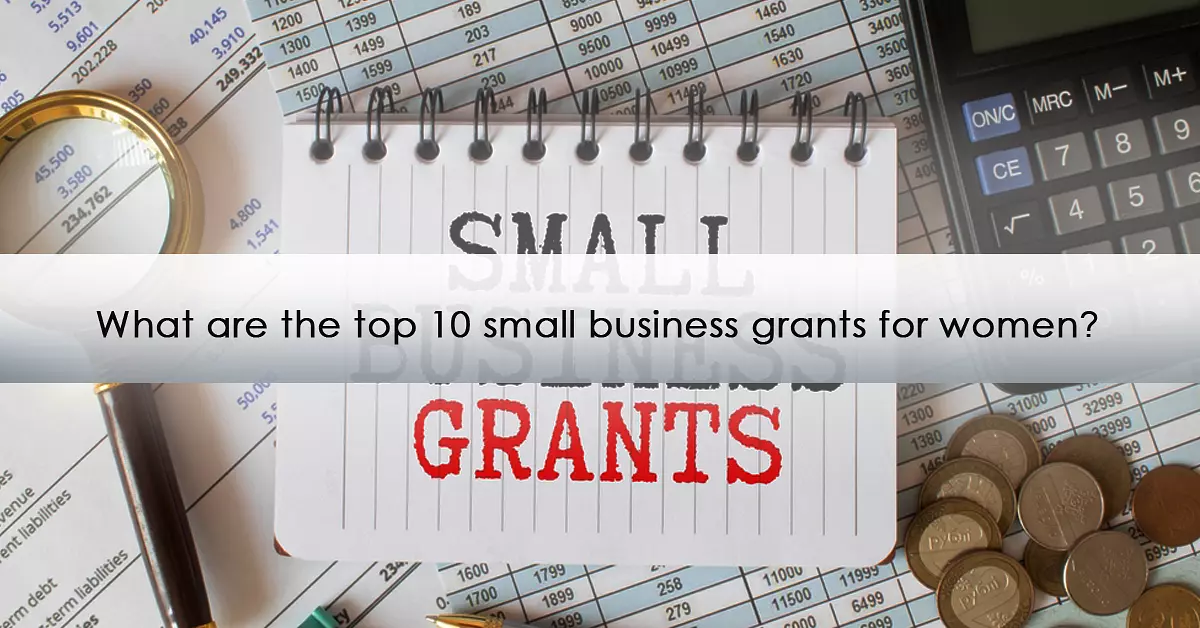 Women are making great strides in the business world: a third of small businesses in the United States are now owned by women. Fortunately, various organizations recognize this and have provided special programs to help self-employed women. Here's a list of the 10 best small business grants for women entrepreneurs.
1. InnovateHER
The InnovateHER grant is a new opportunity from the Small Business Administration to award all female-owned small businesses. This grant is for:
innovative products and services created for women to improve their health and well-being
currently available on the market
should have a commercialization potential
SBA has announced the InnovateHER grant for women business owners competition has more than 120 local competitions held each year in all 50 states. The SBA selects finalists to attend a live pitch competition to compete for cash prizes up to $70,000, including a $40,000 first-place prize.
How to be eligible:
1. Must be permanent U.S. residents and citizens
2. At least 18 years old at the time of their entry submission
3. Private organizations and corporations should have a primary business place in the US
4. Individuals that belong to a group, nonprofit, or organization should meet the requirements
5. Individuals may be associated with multiple teams and organizations for the competition
2. NIH grant
The National Institute of Health grant provides funding for medical research. It's presently funding grant opportunities to COVID-19 -related research. The grant is particularly reserved for small businesses wanting to develop and conduct research on biomedical technology. Several grants are available starting from 2021 onwards.
Eligibility requirements
3. USDA Rural Business Development grants
USDA Rural Business Development grants are available from $10,000 to $500,000. These small business grants fund projects that encourage the development and retention of small and emerging private businesses in rural areas with limited resources.
It also provides strategic technical assistance to small and emerging businesses throughout the United States, including business plan development and implementation, marketing assistance, and job creation strategies.
Who is eligible?
Authorities, state agencies, communities, and more
Rural nonprofit organizations
Indian tribes
Small and private businesses with 50 or less than 50 employees
With projected gross revenue of less than $1 million
Operates in a rural area with a population of less than 50,000
4. Small Business Technology Transfer Program (STTR) and Small Business Innovation Research Grants (SBIR)
SBIR and STTR programs are federal funding programs that offer financial assistance for research and development projects with potential commercialization potential. These programs were established in 1982 to support small businesses through the challenging process of developing new technology and bringing it to market.
To be eligible for a grant through either program, your business must meet certain criteria, it must have:
Fewer than 500 employees, including affiliates
Organized for a profit with a physical location in the US
Must be more than 50% owned by and controlled by a U.S. citizen or U.S. permanent resident alien
5. Shuttered Venue Operators Grant
The Shuttered Venue Operators Grant program is a federal program that provides money to small theaters, concert venues, and other performance spaces. For this grant, the SBA defines "venue" as a:
Performing arts organization
Theatrical producer
Live performing arts venue operator
A similar entity that presents live performances of music, theater, or comedy.
The grant amount will be based on 45% of gross earned revenue (as defined in the application) from 2019, up to $10 million. The applications were discontinued in August 2021 and will reopen until all funds are exhausted.
6. Rural Business Development Grant Program
This program aims to support targeted technical assistance, training, and other activities to develop and expand small and emerging businesses in rural areas.
To be eligible, businesses must have:
Fewer than 50 employees
Less than $1 million in gross revenues
The program is divided into two categories: opportunity grants and enterprise grants.
Opportunity grants
RBDG offers opportunity grants that can be used to support a wide range of business planning and development activities, such as:
Identifying business opportunities
Developing new rural businesses and maintaining the existing ones
Training these rural businesses through interactive communication, technologies, and more
Enterprise grants
At the same time, RDBG offers enterprise grants to support businesses by:
Constructing, converting, and maintaining utilities and infrastructures
Providing assistance in counseling, feasibility studies, product and service improvements, and training
Procurement and development of land properties, rights, and easements
Although there is no maximum amount of grant for enterprise types, businesses with smaller requests are prioritized.
Grants can amount from $10,000 to $500,000 without cost-sharing requirements. On the other hand, the opportunity business grant limits $50,000 for unallocated funds.
7. Grants.gov
Grants.gov is a database of all government grants. This is the place to look if you're looking for federally funded grant opportunities for women—for business owners, education, research, or any other particular category of work.
There are over 1,000 different programs available through 26 different federal agencies. The site can be searched by keyword and filtered by eligibility, type of funding, closing date, and other parameters.
To be eligible, you should have:
a grants.gov account
a DUNS number
a woman-owned business
SAM registration
8. Restaurant revitalization fund
The restaurant revitalization fund is a new program from the federal government dedicated to helping small businesses in the food and drink industry. This provides financial assistance to restaurants and other qualified food establishments with substantial revenue losses during pandemic-related lockdowns.
Under the program, restaurants and restaurant groups can apply for grants up to $5 million and $10 million, respectively, to cover payroll costs, rent, maintenance, utilities, supplies, and more. To be qualified, you must own any of the following:
Restaurants, food stands, food trucks, food carts, caterers
Saloons, taverns, inns, bars
Wineries, breweries, and bakeries
Licensed facilities of beverage alcohol producers with public access
Snack, nonalcoholic beverage bars, and more
Businesses are not eligible if they:
Operate in more than 20 locations
Applied or received a grant from Shuttered Venue Operator Grant
Business is no longer operating
Is a state or local government-operated or -owned business
9. National Institute Food and Agriculture
This is an agency within the U.S. Department of Agriculture (USDA). NIFA's mission is to advance knowledge for agriculture, environment, human health and well-being, and communities by supporting Land-Grant University (LGU) System's research, education, and extension programs, including 1862 public universities.
There are four phases of NIFA grants:
Preaward
This phase is when you are preparing the grant application, where you will do your research, write, and assemble the budget for your proposal.
Award
This is the second phase when the funding agency approves your grant. It often involves making funding decisions and contacting awardees for their grant selection (competitive, noncompetitive, or capacity grant) with the funding agency.
Post-award
Once awarded, you enter into the third phase of grants management, where you will report on your progress and spend money according to the approved budget.
Closeout
When your grant has been completed or expired, it will enter the final closeout phase. In this stage, you will submit your final report and close out any remaining financial transactions and other requirements to be completed.
Who is eligible?
For competitive grants – organizations, businesses, and individuals interested in applying may check the criteria listed on RFA. For more information, they may also check the RFA's eligibility section on Part III, A.
For non-competitive grants – only the organizations recognized in the RFA are qualified.
For capacity grants – the forestry and veterinary medicine schools and land-grant institutions are eligible for this grant. You may also check RFA's eligibility section, Part III, A for more information.
10. Homeland Security
The Homeland Security grant is intended to support small businesses with limited resources by developing innovative technologies and solutions to improve homeland security. These businesses include the areas within:
Cybersecurity
Biological defense
First responder group technology
Maritime and border security and more
This grant program is composed of three programs:
1. Urban Area Security Initiative (UASI)
This program prioritizes funding for regional capabilities and preparedness in specific areas with high levels of density and threat.
Budget: $615 million
2. State Homeland Security Program (SHSP)
SHSP provides the budget for state and local, territorial, and tribal levels to prevent, protect against, respond to, and recover from terrorism acts and quickly recover from incidents.
Budget: $415 million
3. Operation Stonegarden (OPSG)
The OPSG Program provides funds to enhance the ability of states to collaborate with the United States Border Patrol and other federal law enforcement agencies on efforts to secure the border between ports of entry or between ports and inland checkpoints.
Budget: $90 million
Wrapping up
Government grants are an excellent source of funding for entrepreneurs, especially those who have trouble qualifying for the traditional bank loans required to secure the financial backing necessary to accomplish their goals.
Women, in particular, have an advantage when it comes to grants geared toward small business owners because many are specifically intended for female entrepreneurs, and these can be particularly beneficial for women traditionally underrepresented in certain industries.

link