Small business grants help Bay City entrepreneurs build a better community
As the COVID-19 cases rise and fall, one thing remains constant. The pandemic has wreaked havoc for small businesses.
The bright spot, though, is how communities have risen to help business owners weather the storm.
Jessica Hill, who owns Omoni Boutique in Uptown Bay City, says programs that help businesses such as hers overcome difficulties related to supply chain disruptions, worker shortages, decreased customer traffic, and other pandemic-related issues have been invaluable for her company.
Hill, who considers herself fortunate to have benefitted from some of the 2020 and 2021 programs to help businesses, recently applied for the 2022 Bay County Small Business Grant Program. The Small Business program has $1 million in funds to give businesses impacted by the COVID-19 pandemic. The money comes from the American Rescue Plan Act funding allocated to Bay County.
Bay Future is awarding the grants and will accept applications through 5 p.m. May 31. Businesses may apply for up to $20,000 to help with payroll, rent or mortgage payments, and utilities from Jan. 1-April 30. Applicants must meet criteria including being located in Bay County and proving a negative impact due to the pandemic. The application is available online.
Bay Future Inc. President & CEO Trevor Keyes expects the program to be effective at helping businesses face the challenges of the COVID-19 pandemic.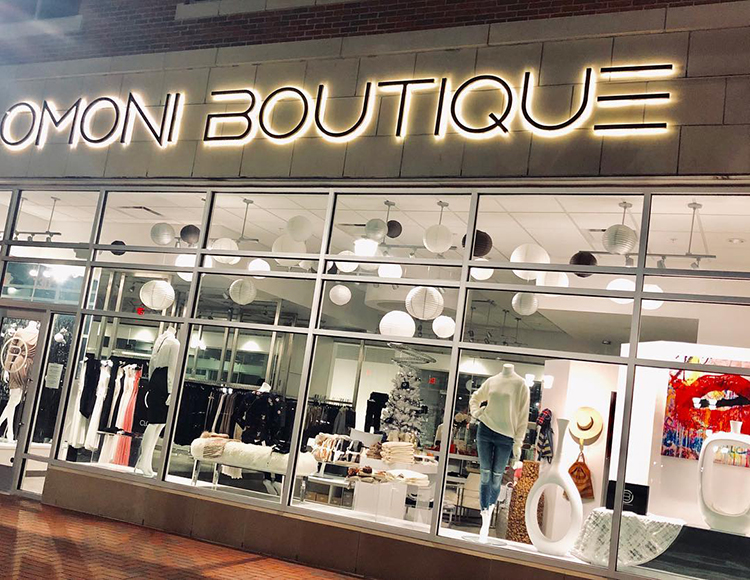 Omoni Boutique is just one of the small Bay County businesses that has benefitted from programs designed to help businesses emerge intact from the effects of the COVID-19 pandemic."The Bay County Small Business Grant Program is a tremendous opportunity to offer the financial support to keep them going and to offset some of those hardships," Keyes says. "I'm thankful that Bay County was proactive in allocating funds and recognizing that small businesses play a critical role in our local economy and the quality of life we enjoy here in Bay County."
The Small Business Grant Program is one of three programs the Bay County ARPA funds will support. Bay Future Inc. also worked with the Bay Area Chamber of Commerce and the Lake Huron Region Small Business Development Center to create the three-part program.
In addition to the grants, the ARPA money also will go to a Small Business Support Program that focuses on the startup and growth of Bay County businesses and a Talent Attraction & Retention Program that brings together partners to enhance worker attraction and retention.
In 2021, Bay Future executed 15 financial support programs, making 513 awards of more than $3 million to businesses, according to the 2021 Bay Future Annual Report.
Hill benefitted some of the earlier federal and local programs. At first, though, she was reluctant to ask for help. She acknowledges that most wouldn't consider a clothing boutique as essential.
"I would say a women's clothing store is not necessity in the way that child care is," she gives ask an example.
But Hill has always seen her business as more than a retail outlet.
"When we opened in 2017 in Bay City, our goal was to provide more fun things for our community and residents and that's still the goal," Hill says.
She grew up in Saginaw. After graduating from Michigan State University, she moved to Chicago. But she found herself drawn back home to raise her family. Once here, she wanted to build something for her children's future.
"I wanted to start a small business because I love this community," Hill says. "I don't want my kids to grow up and be like "'There's nothing to do.' "
To fill a need for "something to do," she has created fashion shows, partnering with other small businesses to attract and entertain an audience. Her most recent show was in March at Bay City Hall. About 125 people attended.
Hill also pays her workers at a similar rate to what the big box stores offer in order to build a better community and offer good jobs.
Holding events and paying a competitive wage are not easy goals to reach in the wake of the pandemic.
"With things nowadays, people are watching their pennies," which reduces her sales. At the same time, her suppliers are raising heir prices. Hill understands that many of her customers can't afford to pay more for clothing, so she has resisted significantly raising her prices.
"We're still getting by. We're keeping our head right above water. It's not a relaxing time. It's 'OK, hopefully we get people in today.' "
As bad as the pandemic was for business, Hill says it also inspired her to get creative and offer new services. For example, she expanded her online presence and offered both curbside and in-store pickup to online shoppers. She offers limited delivery when staffing allows. She uses social media videos to show customers clothing.
Those services have proven popular. She's drawn customers from out of state. Her longtime customers like the new options. Still, in-store shopping remains her primary focus.
"I remember going with my mom to Jacobson's," she says. "It was a whole experience. It was a special treat. We did lunch. We did a shopping day. It was a special memory. That's the environment we wanted to create."
link