Montreal plans $5,000 grant to businesses affected by construction
"These are concrete actions that will make a big difference for merchants who are often distraught and disadvantaged by the impacts of roadwork."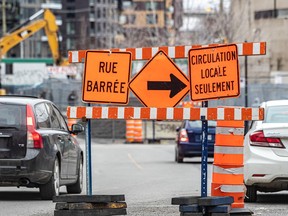 Article content
Montreal city hall says it plans to simplify access to financial relief for businesses affected by major municipal construction work by launching a $5,000 lump-sum grant.
Article content
The city executive committee will present the new grant program to city council for approval on Monday, the city said in a statement.
Article content
"This unprecedented move is being made in order to help a larger number of businesses and to overcome the limitations of the old program," the statement said. It did not say how much the program will cost.
The executive committee approved the program with a budget of $4.5 million at a special meeting on Friday.
The new program is in addition to the city's older aid program, which offers up to $40,000 per eligible financial year.
Businesses in areas affected by municipal construction work or construction carried out by the Société de transport de Montréal would be able to apply for the new and old programs.
Article content
Unlike the older program, the $5,000 grant will be available at the start of construction and will not be conditional on lost profits.
Eligible businesses must be tenants or owners of their building and be located in an area where work blocks vehicle traffic for at least six months.
The city also plans to reduce the number of documents required for the older program, and expand its eligibility by reducing the minimum duration of construction to six months.
If approved by council, the city expects the new program to be available as of this summer.
"Our administration is committed to supporting its merchants during the works and that is why it was essential for our team to find a way to do it better," city executive committee member Luc Rabouin said in the statement.
Article content
"The objective is to simplify merchants' lives, to offer businesses a better user experience and to enable them to adapt their business practices from the start of a project."
The Canadian Federation of Independent Business (CFIB), the Quebec Retail Council and the Association des sociétés de développement commercial de Montréal welcome the changes, according to the statement.
"These are concrete actions that will make a big difference for merchants who are often distraught and disadvantaged by the impacts of roadwork," François Vincent, CFIB's vice-president for Quebec, said, adding that the new lump sum program will remove the paperwork while the changes to the older program will streamline and widen access.
"On this file, the city of Montreal represents a model for large Canadian cities and we hope that many will follow this example."
Montreal names first housing developer for Hippodrome neighbourhood

CAQ ridings don't have inside track on seniors housing construction, government says
link