Here's How Women Can Get Funding for Their Business
Eliza "Ellie" Diop is a business strategy coach and mother of four who teaches Black women the ins and outs of business. This includes starting a business, scaling, selling, and getting business funding. And while she's successfully made seven figures as an entrepreneur running her Ellievated academy and Mommy to Millionaire company (which teaches moms about wealth planning for their families), as the old saying goes, "nothing worth having comes easy." The 30-year-old mom decided to pursue entrepreneurship after being laid off from her job in 2019 and shortly after began going through a divorce, which caused her to move back in with her mom. On top of that, she was dealing with the COVID-19 pandemic like the rest of the world.
---
She had a background in finance and after applying to over 53 jobs with no luck, she decided to take what she learned over the years and teach others how to start a business, particularly Black women. "I couldn't find a person or a coach for myself, so I decided to be what I was looking for," she says. Ellie took her first stimulus check and established an LLC, bought a ring light, upgraded her phone, bought some domains, and bought a Canva subscription. She set aside the remainder of the money and the rest was history. The L.A. native began creating content daily, sharing information and tips for entrepreneurs. From there, she began offering coaching calls.
Experiencing major life shifts at one time was overwhelming, but whenever she wanted to give up, she would refer back to an inspirational quote she came across one day on Instagram. "When you're in a dark place and it feels like you've been buried, perhaps you've been planted. So, bloom," it reads. "It was one of those things that I stuck to and every time things got hard, I told myself this isn't the end, you're just being planted right now," she says reflecting on the quote.
When it comes to her clients, Ellie makes sure to listen to their needs and also keeps it real with them about entrepreneurship. While her focus is on helping Black women-owned businesses, she is aware that everyone isn't meant to be an entrepreneur or run a company. She calls that rhetoric, which is constantly being promoted on social media, "toxic." But she does believe that everyone should own something. Whether it's real estate properties or an online store.
Ellie shares five tips to help you get funding for your business no matter if it's a side hustle or your main source of income.
1. Business Credit
"Any woman who has a business should have business credit. There's personal credit we have in our own name but you don't want to attach your own name and your funds to your business because it's its own entity, so having business credit allows for your business to have credit cards [and] to have loans to have lines of credit. And those only report to your business so it keeps you separate from it. And truly, business credit is easy to build. It's just a matter of getting consistent with trading lines.
"The important things to know about business credit are you're going to need trade lines. These can be things like gas cards, retail cards, vendor credit and eventually you will get a business card or business loan. And you want to make sure you have early payments. [They] are better than on-time payments but definitely don't be late and continue to do that for at least 90 days to about 4-5 months. And now you're in a really good place to have a good business credit score and [you can] go out and seek more funding."
2. Grants
"I think a lot of the times and especially because of all the PPP stuff that went on, people think that grants are associated with [the] government or they get scared. There are government grants but there are also several funding opportunities that are just available for women-owned businesses and even more so that are available for Black women-owned businesses. And that's free money. That's money you don't have to pay back. It's money given to your business that you can use to scale.
"Some places to find these are the Minority Business Development Agency (MBDA). They have one of these in every state and every major city typically so you can search that online. I would also recommend looking at the National Association for the Self-Employed (NASE). They have a monthly grant that they give away. There's also a lot of private grants. Chase does grants every year, American Express has grants every year, FedEx, Visa. So just really looking into those opportunities."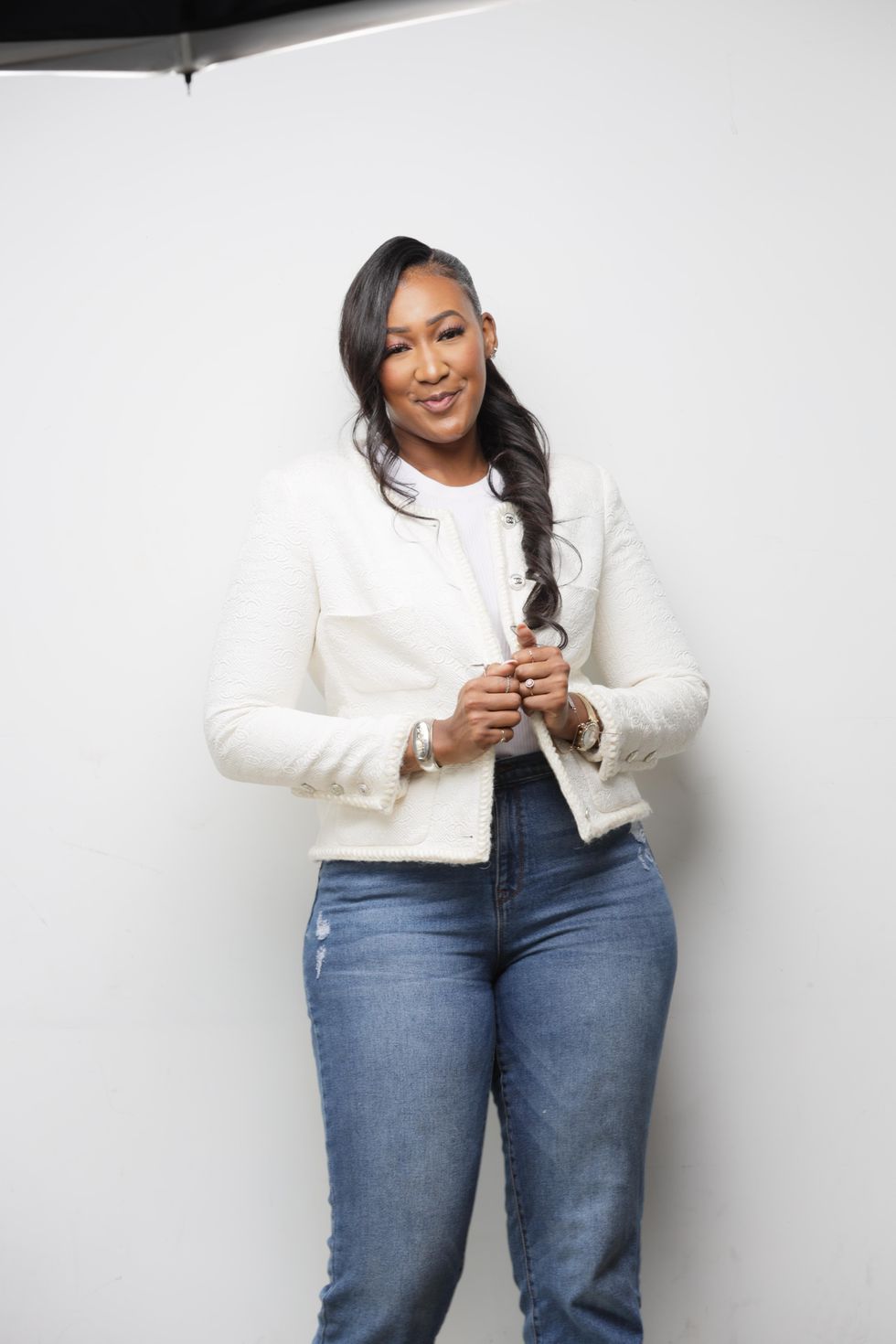 Photo courtesy of Ellie Diop
3. Business Bank Account
"You need to have a business bank account. You need to have a payment processor so when someone buys from you, that money should go through something like a Stripe or a PayPal or Shopify, or Square and enter your business bank account. That is going to set you up to be able to get funding because they're going to ask you for things like your business bank statements and you're not able to provide Cash App screenshots as proof of income."
4. Business Plan
"A lot of people feel intimidated when we hear business plan because it sounds like a 30-page thing [or] we have to pay someone to write it but truly, it's not that bad. I have a class where I teach women how to write business plans and their marketing plans and I give them a template so that we understand how to really communicate our businesses and what the mission is and why we're better than the competition. All of these things are super important because when you're in front of an investor, for example, those are the kind of questions they're gonna ask you. And we want to be able to answer them as much as possible."
5. Bookkeeping
"Organize where the money is coming from, where it's going [and] what are your expenses because that is how you're gonna stay cash flow positive, [which] is when you can see where it's coming in, where it's going out and make sure that what's going out is less than what's coming in so that you have that margin. Knowing those numbers will also help you to get funding 'cause a lender is more prone to approve a business that's positive cash flow than negative cash flow."
For more information about Ellie, follow her on all social media platforms @ellietalksmoney and visit her website Elliediop.com.
Let's make things inbox official! Sign up for the xoNecole newsletter for daily love, wellness, career, and exclusive content delivered straight to your inbox.
Feature image courtesy of Ellie Diop

link