Grant-recipient business in Sarnia paying it forward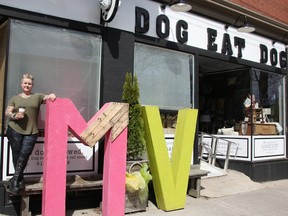 Article content
Applying for grants when you're a small business owner isn't easy, but it's worth it, says Chrissy McRoberts.
Article content
"Whatever it takes," said the Sarnia city councillor and owner of Dog Eat Dog, a gift and rustic furniture store in the city's Mitton Village.
McRoberts' was one of 10 businesses that received $10,000 My Main Street local business accelerator grants through a recent program.
Sarnia and the Federal Economic Development Agency for Southern Ontario (FedDev Ontario) program also covered the costs for an ambassador to help businesses in Mitton Village and downtown apply for the grants.
McRoberts said she's already noticed a difference, since finalizing new exterior lighting, installing a ramp and facade improvements earlier this year.
People were particularly impressed with the six lights she installed to help illuminate the sidewalk, she said, noting the street lighting in Mitton Village is adequate, but not great.
Article content
"I wanted my grant to service all of the community on top of me making more money," she said.
"I had to have a balance there."
McRoberts, who's also involved with the city's Mitton Village community development advisory committee and the neighbourhood Mitton Village Citizen's Collective, said business owners often are afraid to apply for grants because they're busy and worried about losing time without a guarantee.
Having the ambassador helped streamline that work for her and keep her on track, she said, adding now she's paying it forward.
"Every Sunday from 9 a.m. to noon at Blackwater Coffee, I ask businesses to come and sit at the table," she said. "Anything you need help with, come talk."
One of the key components of what she calls Coffee with Chrissy is helping answer questions for people about grant opportunities, she said, noting officials with the Sarnia-Lambton Economic Partnership also have been on hand to offer advice.
Article content
Getting the paperwork done for one grant also means being better prepared to apply for others in the future, she said.
Getting more stores applying for grants could mean more improvements at businesses throughout the community, making the community stronger for tourism, she said.
"Because people will see that we're doing something really unique and cool," she said.
McRoberts, who added $4,500 of her own money to complete the projects at her store, also bought a fridge and freezer with the grant money to start selling locally sourced cold coffee and ice cream desserts.
She also sells specific Doggy Style beans, sourced from Blackwater, and 10 per cent of sales help pay for adoptions at the Sarnia and District Humane Society, she said.
She couldn't have afforded the upgrades without the grant money, she said.
"COVID and sales are down."
Hopes also are to take advantage soon of grant funding through the city's community improvement plan, she said, noting there are other My Main Street grants available like a Tales of Triumph contest with My Main Street and Canada Post offering more than $100,000 to winners.
"It's free money," she said, encouraging people to apply.
"Even if you have to pay half of it back later, there's always a win in that. Why would you not do something for free money?"
link