Companies Across Maryland Exemplify State's Supportive, Business-Friendly Climate, and Opportunity for Others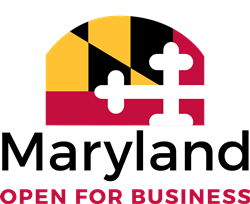 Much of Maryland's success is attributed to its supportive, business-friendly climate and strength in innovation and entrepreneurship.

BALTIMORE (PRWEB)
July 25, 2022
The Maryland Marketing Partnership, created by Governor Larry Hogan in 2016 to help drive Maryland's branding and marketing efforts to attract businesses, create jobs, and grow the state's economy, today shared a summary of the latest news from companies and organizations that are part of the partnership.
"Much of Maryland's success is attributed to its supportive, business-friendly climate and strength in innovation and entrepreneurship," said Tom Riford, executive director of the Maryland Marketing Partnership. "From providing financial support and encouragement to small businesses and also helping other countries, to experiencing notable office space and personnel growth, to being recognized as best places to work, to offering top-notch outdoor recreation, to providing buildings for companies that are relocating and expanding in Maryland, and the state's public higher education system moving from a university-centered perspective to a student-centered perspective – these companies and organizations are proof that for those who crave success built on both hard work and the right environment, Maryland is Open for Business!"
BGE, based in Baltimore, is Maryland's largest natural gas and electric utility, providing safe and reliable energy delivery to more than 1.3 million electric customers and over 690,000 natural gas customers in central Maryland and has awarded $2,000,000 to 100 small businesses located in central Maryland during the fourth round of BGE's Energizing Small Business Grants program. In total, 276 businesses received grants since 2021 totaling more than $5.5 million. The program prioritizes businesses operated by historically underrepresented minority groups often challenged with access to capital, with 73 percent of grants provided to businesses owned by people of color and 71 percent owned by women.
Bozzuto, based in Greenbelt, has once again been named one of The Washington Post's 2022 Top Workplaces in the Washington, D.C. area for an incredible seventh year in a row. Selection is based solely on employee feedback gathered through an anonymous third-party survey, which measured several aspects of workplace culture, including alignment, execution, and connection. Bozzuto has also been named as one of Paramount's 2022 Top 75 Companies for Executive Women for the fourth consecutive year. This honor recognizes companies that celebrate and champion the advancement of women. See the full list of companies included and learn more about this recognition here.
Cloudforce, based in National Harbor, is the leading force in the Microsoft cloud creating, migrating, and maintaining custom cloud solutions for businesses and government. The 12-year-old rapidly-growing cloud consultancy has tripled its office space to occupy the entire top floor of 120 Waterfront Street and accommodate over 200 full-time employees with hybrid schedules. The move and redesign were led by Cloudforce Director of Operations Heba Eldien. "In 2016, I came to Cloudforce as its fourth employee, and today our headcount is rapidly approaching 50," said Eldien. The firm has seen meteoric 314 percent growth since 2019 despite the pandemic; and recently received "Inc. Magazine's" Best Workplaces award and "Washington Business Journal's" Best Places to Work award.
Eastern Watersports, based in Middle River, is currently offering kayak, paddle board, sailing catamaran, and jet ski rentals seven days a week, 10 a.m. – 7 p.m., at its Middle River, Dundee Creek, Hammerman Beach, and Port Covington locations through August. The company is also offering a variety of water activities, including guided tours, paddling and sailing lessons, and paddle board yoga classes, throughout the summer. In addition, Eastern Watersports is accepting reservations for its summer day camps for kids ages 8-11 years and 12-16 years. These exciting week-long camps help kids develop a passion for the water, combining education with fun activities including paddling adventure tours, kayak challenges, swimming, team building, paddle board hockey, sailing experiences, boating safety, and more. Register at http://www.easternwatersports.com.
Route One Apparel, based in Towson, supported and joined the Baltimore-Odesa Sister City Committee for their first annual event, BMORE for Ukraine, on July 23 at Baltimore's Patterson Park. The event included live music, dance, raffle, food and more. The proceeds benefit World Central Kitchen & United Help Ukraine to continue supporting the citizens of Ukraine. Route One Apparel has already donated more than $600 to World Central Kitchen to support its efforts in Ukraine, raised through sales of the Route One Apparel Stand With Freedom: Ukraine Strong product line: https://www.routeoneapparel.com/collections/stand-with-freedom-ukraine-strong
St. John Properties, Inc., based in Baltimore and one of the nation's largest and most successful privately held commercial real estate firms, announces that Nations Roof has signed a lease for 29,056 square feet at Caton Research Center, a 60-acre business community in Baltimore County. The group's Mid-Atlantic division will relocate its operations, and over 100 employees this summer. KYOCERA Document Solutions Mid-Atlantic has signed a lease with the company for 12,148 square feet at 1320 Innovation Street, a 42,120 square foot single-story flex/R&D building situated within a Baltimore County mixed-use business community. Window Nation has also signed a lease for 23,030 square feet at Cromwell Business Park, a 165-acre business community in Anne Arundel County.
TEDCO, based in Columbia, is seeking a firm to conduct an in-depth economic development research and analysis to better understand TEDCO's commitment to fostering an inclusive and entrepreneurial innovation ecosystem. The selected firm will assess the State's current economic development strategy in this space and help shape the creation of a new Maryland Equitech Growth Fund. The Request for Proposals (RFP) deadline is August 1, 2022. TEDCO also recently announced it will receive up to $50 million from the State Small Business Credit Initiative (SSBCI). Funds will be allocated into four existing programs targeting technology-based Maryland businesses.
Transamerica, based in Baltimore, is proud to share that as of June, its new office location is in the Wills Wharf building at Harbor Point in Baltimore. Some other exciting developments include new employee benefits offerings of accident insurance and critical illness insurance policies. The company also won four Plan Sponsor Council of America awards for excellence in retirement plan communication and were recognized by Training magazine with an APEX award for employee development. An independent survey of large-market retirement plan sponsors showed Transamerica delivered superior results in customer experience. Transamerica also released a payroll integration white paper to help retirement plan sponsors better understand their options.
The University System of Maryland (USM), based in Baltimore, is the state's public higher education system. USM's 12 institutions, 3 regional higher education centers, and system office work closely together to leverage their collective expertise and resources, share best practices, increase the system's effectiveness and efficiency, and advance USM's mission to improve the quality of life in Maryland. USM has unveiled a new, 10-year strategic plan, "Vision 2030: From Excellence to Preeminence," a road map that will bring a fundamental shift to how the USM identifies and achieves new priorities in teaching, research, and economic development. The new, student-centered Vision 2030 strategic plan sets priorities for quality, affordability, innovation, equity, and advancing life in Maryland.
About Maryland Marketing Partnership

The Maryland Marketing Partnership, founded in statute as the Maryland Public-Private Partnership Marketing Corporation, develops branding strategy for the state, markets the state's assets, and encourages the location and growth of new businesses in Maryland.
link