Alkek Foundation grants $1M to renovate the business building
January 9, 2023
The funding for the Albert B. Alkek Building includes redesigning learning spaces and acquiring new technology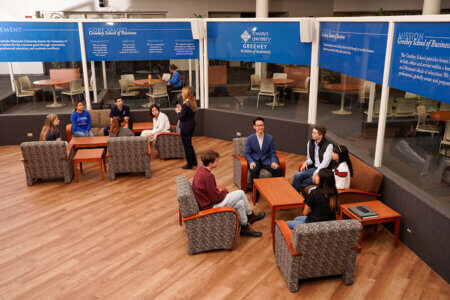 St. Mary's University has received nearly $8.7 million from the couple, their corporation and their foundation over the years. Albert B. Alkek attended St. Mary's and was a member of the Board of Trustees.
"The generosity of the Alkek Foundation has been felt across the St. Mary's University campus for many years. Each academic unit and student we serve have, in some way, benefited from the Foundation's support, and we are truly grateful," said President Thomas M. Mengler, J.D. "As we continue to improve the educational experience and learning opportunities for St. Mary's students, the Alkek Foundation's partnership has played a significant role in helping us continue training successful and ethical leaders."
In the 1970s, the Alkeks made a transformative gift to erect the business building that bears their name. Greehey School of Business Dean Rowena Ortiz-Walters, Ph.D., has prioritized renovating the building to provide students with the best learning environment possible.
"As we move forward, we aspire to achieve an even greater level of prominence for the Greehey School of Business and professional preparation for our students," said Ortiz-Walters, who is also a Professor of Management. "The Alkek Building, home of the Greehey School of Business, is of material importance to our ability to achieve this vision."
The renovations encompass redesigning learning spaces, upgrading the student-centric atrium and acquiring new and emerging technology.
"The Alkek Foundation is proud to carry on the Alkeks' investment in St. Mary's University," said Charles A. Williams (M.B.A. '86), the Alkek Foundation's president. "We believe, by providing this grant for the renovation of the business building, the St. Mary's faculty will soon have a state-of-the-art facility with the most current tools available to prepare our future leaders with the necessary skills to succeed in this ever-changing world."
An experiential learning lab with a flexible workspace and digital interactive tables to encourage student collaboration

A career and professional development room where students can interview for internships, jobs and graduate programs

A presentation practice room with recording equipment where students can hone communication and public speaking skills

A supportive area for tutoring and mentoring
link