African Nova Scotian women entrepreneurs to share experiences at Dalhousie Promise Scholars event – Dal News
When René Boudreau (BA'15) started her business, Elevate & Explore Black Nova Scotia Inc., she did not encounter many tourism businesses owned and operated by Black entrepreneurs. Although that lack of access to industry peers was a major challenge at the outset, she was able to fill the gap through networking with other entrepreneurs and participating in programs that connected her with Black business owners.
Boudreau believes that a program like Promise Scholars would have been beneficial during her time at Dalhousie, providing not just encouragement but connections to explore entrepreneurship. The Promise Scholars initiative supports and nurtures African Nova Scotian and Indigenous students with financial resources, work and internship experiences and dedicated and personalized academic and career mentoring.  
"I would have felt more supported and motivated to pursue business school," says Boudreau. "I think we will see more African Nova Scotian women applying and graduating from business school thanks to this program and, overall, more African Nova Scotian entrepreneurs in the province."
Much-needed space for conversation
Boudreau is one of four African Nova Scotian women entrepreneurs who will be sharing their experiences at  Embracing Diversity: Black Women Build Businesses. The other panelists are Joyce Adom, Founder and CEO of Simply Go Natural Cosmetics; Shekara Grant (BA '19), co-founder of Change Is Brewing Collective; and Ashley Hill (BA'13) Founder and Executive Director of The PREP Academy
Presented by the Faculty of Management through the Promise Scholars program, the panel discussion creates much-needed space for conversations about women of African descent in business, according to Jalana Lewis (JD'13) event host and Director of African Nova Scotian Community Engagement at Dalhousie.  "These are discussions that aren't had enough," she says. "We know that BIPOC business owners face additional barriers such as racism and discrimination, lack of access to financial resources and lack of access to major contracts when initiating a business. The only way to address those challenges is to identify them and begin conversations about solutions."
Related reading: Bringing Dalhousie's African Nova Scotian strategy to life
Sharing experiences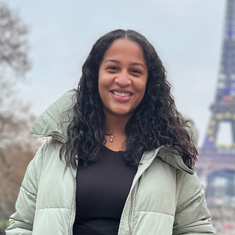 Red tape proved particularly challenging for Grant (shown left) when she cofounded her business, a Black and Indigenous-run community interest company that donates profits from its craft beer and ciders to projects that support Black and Indigenous communities and food-security initiatives.
"Because of the history between Black people and banking institutions, I was terrified that a misstep I took now would cause the demise of my business venture five or 10 years later," recalls Grant. "I am participating in the panel discussion because I am hopeful that I can give attendees a very honest take on my experience in entrepreneurship."
Supporting young Black entrepreneurs
For Adom, the appeal of entrepreneurship is that it is one of the best ways for Black people to achieve financial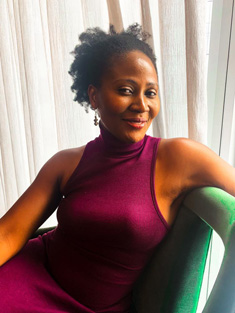 independence and not deal with racism in the workplace. That said, as a newcomer to Nova Scotia and a mother of two, it was hard for her to access resources to develop her organic cosmetics business and it took time to build support in Black communities. Thanks to the support of her and her husband's networks, the natural hair education workshops she held, and her mentorship of other Black women entrepreneurs, she was able to overcome barriers and get her business up and running.
"My motivation for participating in the panel discussion is to support young Black entrepreneurs," says Adom (shown right). "I want to help build the ecosystem to provide the mentorship and support I never received, be part of the change I want to see and empower more Black youth and graduates to venture into entrepreneurship and create more opportunities for people like them.  I also believe representation matters, so being a Black entrepreneur mentor, I can provide a role model for them to know they can do it too."
Related reading: New pan‑Atlantic Canadian initiative creates more opportunities for Black and Indigenous business students
Filling the gaps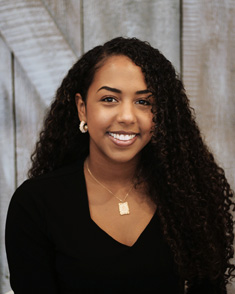 Hill (shown left), who has similar motivations for participating, started her business to fill the gap in services available to support African Nova Scotian students in becoming entrepreneurs. She wants the event to highlight the opportunities offered through Promise Scholars. "It is a program I would have benefitted from," she says. "I had to navigate this journey, creating my own networking and career mentoring relationships. This is a unique opportunity with wrap-around support, and I want to help share this information with students."
Lewis hopes that the event and the Promise Scholars program will provide African Nova Scotians and people of African descent, in particular Black women, with the necessary tools and resources to identify opportunities and successfully grow the businesses they launch. "I am certain the event will be an exciting conversation between Black women business owners who work in different areas but share the goal of growing their businesses," she says.
Embracing Diversity: Black Women Build Businesses happens online on Thursday, Feb. 24, 2022 from 9 to 10 a.m. AST. To gain access to this webinar, please register in advance.
link